A quick analysis of what is currently being Googled reveals that the search GDPR PDF Download Checklist is very popular. This does not surprise us.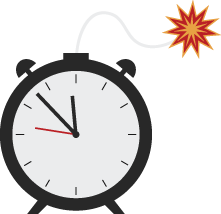 The Clock is Ticking. Sorry.
As I write, we have around seventy days until May 18th. We suspect that the vast majority of organisations are only just at the point of appreciating the scale of the task, let alone addressing it.
A handy tick-box and a few minor actions would be a wonderful answer to the challenge. Sadly, it's not quite like that. However, help is at hand.
Some Free Documents That Might Help.Or Not.
Have we brought you here under false pretences? We wouldn't dare. Below are two documents which may just help you come to understand the areas that GDPR covers, and hopefully lead you to a decision as to whether the task of compliance is within your in-house capability.
Controller or Processor? An Important Distinction in GDPR.
Are you a Data Controller or Data Processor? We could share they wordy legalese of the GDPR document here. However, a simple illustration will be more helpful:
The Smith and Jones Company sells widgets to consumers. It uses the Johnson Marketing Company to email consumers on their behalf and track their engagement activity, offer support, extended warranties, etc. Therefore, Smith and Jones is the data controller, and Johnson Marketing is the data processor.
We shared these documents simply to give an idea of the scope of the work involved. To use a cooking analogy, the checklists show what you should shop for, not how to produce the final dish. They are related to a larger, 11-page GDPR Readiness Checklist. We're happy to share that one, but on a reasonably-priced, commercial basis only.
Data Controllers Checklist
GDPR – General Data Protection Regulation
Download our free .PDF checklist
Data Processors Checklist
GDPR – General Data Protection Regulation
Download our free .PDF checklist
A Helpful, Simple, Cost-Effective Solution
If you feel "challenged",then we might be able to help. We're offering combined GDPR compliance as well as ISO 27001 approval for a fixed fee for a limited period. In most companies the work involved in achieving compliance in both has significant overlaps. Therefore, there are significant economies of scale in addressing both at the same time.
We've assisted many companies in gaining ISO 27001 approval, so we're in a discipline that we know well.
The Real World: We Live There
More importantly, we know companies well, and why they often struggle with making compliance work in the real world. Our senior consultant has over 25 years' experience in the quality and standards industry. He worked as an assessor for a major UK standards body, so has worked as enforcer as well as advisor.
Our proposal includes the support of a consultant , as well as full documentation. It's somewhere between a DIY kit and a full consultancy offer.
You can read more about it here.
Next?
If you think we might be able to help in any other matters, contact us.
Meanwhile, "GDPR PDF Download Checklist" continues to top Google search tables…