We're aware that some organisations may wish to use their own existing in-house resource to attain a specific ISO approval. However, seeking a new ISO standard may take them beyond their current "comfort zone". To address a clear market demand, we have created number of certification toolkits. They contain documentation, policies, procedures and controls that will guide those with  some knowledge of ISO standards through the steps towards a successful inspection audit.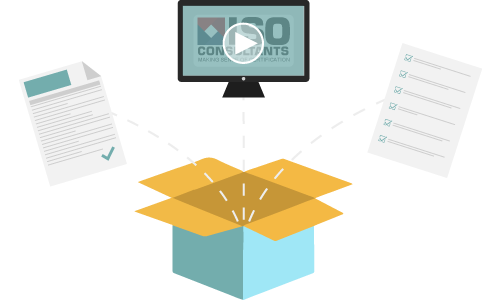 What benefits are there in DIY ISO?
If you've ever been confronted with a copy of an original, raw ISO standard, you'll know that just understanding the ISO-speak can be difficult.  Now try and grasp where to start with the implementation. Don't worry – help is at hand. Our DIY packages provide all the documents required to comply with each of the standards, along with forms and registers. They simply need customisation into your own document style. They are exactly the same as the ones used by our own consultants.  Therefore, they have been tried and tested in many real management systems, and been certified by many certification bodies. In short, they are proven and effective. But That's Not All… The remote consultation packages and training tutorials can then be used if you need additional help in customising the systems and modifying them to meet your unique business requirements.
What is included with a DIY ISO package? 
Three Distinct Components.  Firstly, a set of documentation standards. Next, for remote support, there is a 1 hour remote consultation slot. Finally, a series of tutorials and training documents to support each set of standards.
A concise array of policies, procedures, controls, tools, checklists and presentations.
A full 12 months of email support
12 months subscription to our document update service
1 Hour Remote Consultation
One hour web based consultation
Senior ISO Consultant/Specialist
Unpacking your standards package
Live document/screen sharing
Access to related standards tutorial libray
Approximate course duration 12 hours
Check and review phase video
Common Q&As
Which ISO Standards are available in DIY? 
ISO 9001 and 27001 packages (by far the most popular) are currently available. ISO 14001 and 45001 will be available by the end of January 2018. The remaining standards listed on the standards page launched over the following weeks. ISO standards are revised approximately every six years. We will be working continuously to keep the packages up to date with the latest changes and amendments as they come into the public domain.
BS EN ISO 14001
Coming soon
BS EN ISO 45001
Coming soon
Want notification of an DIY Package when it's made available? 
If you are interested in finding out when a certain DIY ISO Package will be available, just fill in your details below and we'll email you when it is made available.
Error: Contact form not found.
Need Other Options?
If you feel that DIY ISO is slightly beyond your capabilities, consider allocating some of the work to our ISO consultants. We can work remotely with you, or even face-to-face. Remote consultation packages help lead and support you through the documentation with the help of a dedicated consultant. Alternatively, if you need the entire process managed from start to finish by an on site trained ISO professional, we can provide one.
Face to Face ISO Consultation
Working at your business premises, we will guide you through the implementation of policies and controls that will ultimately make your company ready for inspection.
This option is provided to assist those who feel capable of doing some of the basic work, yet would prefer to retain th skilfull eye and help of a trained consultant.