Having been involved in Quality and Compliance since the early 80's I sometimes wonder why we still get bad products and services, despite ISO 9001 et al.
One of the issues is definitely weak and inconsistent auditing from certification bodies. But I have a feeling that is inevitable with the way certification is set up in the UK: Certification bodies are not the same, despite their UKAS Accreditation, which is supposed to ensure conformity. My own experience suggests that often the more expensive the certification body, the harder the audits are to get through. Which gives a lot of incentive to spend as little as you can!
Used properly, what ISO 9001 and the other management system standards do give you is a template which will drive systematic improvement, if that's what you are seeking. Change management and business improvement initiatives can be great ideas, but without an established method how often do they yield the intended results? So why not use one of the ISO systems, especially if you've already paid for certification.
I've been visiting customers and suppliers for over 40 years. In the early days an auditor said to me "you know a good company within 10 minutes of entering". Another offered "all companies reflect the personality of their managers".
I dismissed the idea you could establish the quality of a company/potential supplier within ten minutes pretty much instantly. It's too complex a situation, with too many variables, and of course, is dependent on your own circumstances.
However, I do think the influence of management on their own organisation is often overlooked or misunderstood, especially by themselves. If you want employees to do their best for you, to look after your customers and take care when delivering your company's products or services, then your own attitude to these things and how you go about your daily work, becomes very important.
I was asked to visit a recycling business a few months ago, with a view to helping them improve their environmental performance after they'd come to the attention of the Environmental Agency. The Manager I met explained he wanted me to update some documentation, complete some audits and suggest some improvements. In his concluding comments he said "we want improvements but they have to be free of costs, the owners don't give a damn about the environment as long as the cash still comes in". I never returned.
Now I doubt the owners of this particular business had ever said they didn't care about complying with the legislation covering their business, it just became obvious from how they acted within the business.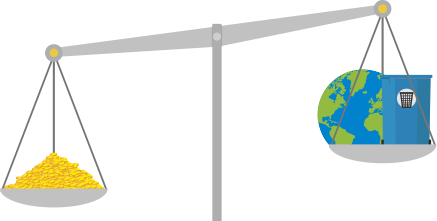 I've also come across "micro-managers" many times. People who give no real responsibility to their staff, but then complain that their staff show little commitment and never come up with improvements or suggestions. Why should they, if your attitude towards them gives the impression you just want obedient robots who do as they are told, nothing more or less?
Improving the quality or consistency of your products and services requires, in most cases, a change in the culture of your staff, and the only way you'll get that is if you deliberately nurture and encourage all staff to take some sort of ownership for their work and position in the business, to take part and offer something more than mere obedience.
If you want some help changing the culture of your organisation, or gaining ISO 9001 certification why not drop us a line and maybe we can help? Follow this link to get in touch.